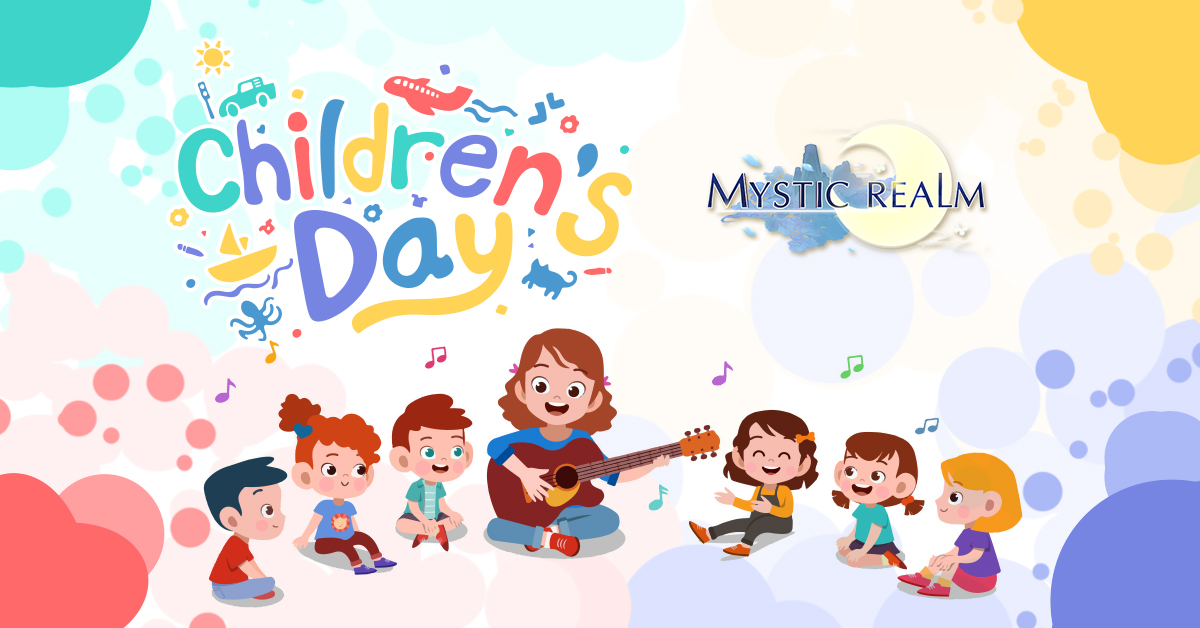 Hello! We are going to celebrate a festival that is full of innocence and pure happiness. What could it be? The answer is… Children's Day! I'm sure most of you have celebrated this day and participated in children's parties before. As long as you still want to celebrate Children's Day, nobody can stop you XD. To mark this special occasion, we have prepared some events for all of you~
Event time:12:00:00, 31 May 2020 (UTC+8) until 23:59:59, 3 June 2020 (UTC+8)
Children's Day Special Event 1 - Sharing
Reward-250 B.C Jade,Lv.1 Gear Enhance Stone*30,Pet Rank-up Rune*30,10000 Star Soul
We hope that you can share with us an interesting or embarrassing experience you've had on the previous Children's Days. Let me give you my very own experience as an example:
There was one time I attended a Children's Day party, and because I was too excited playing games, I accidentally broke my tooth!
Sharing is caring and I have shared an experience, now it's your turn XD
How to participate
Character Name:
Server:
Share your interesting or embarrassing experience related to Children's Day in the comment section below~
Children's Day Special Event 2 - Honesty
Reward For Reference value and meaningful suggestions- 100 Ancient Coin,Star Destiny Shard*2
With the pureness and honesty of this meaningful day, we would like to ask for your opinions on the game. We know that there is no perfect game, but there are ways to better a game. So, we would like to take this opportunity to collect your opinions in order to improve our game. Can you tell us what kinds of events you hope to see in the future and why you hope so?
Reward For Reference value and meaningful suggestions- 100 Ancient Coin,Star Destiny Shard*2
The following is the event types to vote:
- More events to play
- More spending events
- More special events based on festivals
- Collection and Gift Exchange Event
- More interactive events
- Lucky Draws
- You can also list out other recommendations
To participate this event, click into the Google form we've prepared for you and fill up the information~
Link: https://forms.gle/ep8pGQc77VmCvEU46
*Aside from the voting, you can also tell us why you want to have this kind of event in the game~
*Please write your answer regarding the question to us and special rewards will be given as an appreciation for your precious opinions.
Participation Rules:
1. Each player is limited to one participation
2. Those who take part in this more than once will be disqualified
3. Those who do not like and share this post will be disqualified
4. Rewards will be sent in 3-7 working days after the event
5. Any reward receipt issue will not be entertained 10 days after the event
6. We bear no responsibility towards reward receipt failure due to any incorrect information provided
7. Players who did not LIKES and SHARE the post will be disqualified.
8. The management team of Mystic Realm will not be responsible for any rewards failed to receive due to incorrect character information given
**We reserve the right to amend any of the rules and regulations without prior notice and should any dispute arise, Mystic Realm's Official Team decision is deemed final.
Come join us now! Don't miss the chance to win all these gifts from us!
Follow us to get news and updates;
Official Website: http://mysticrealm.eyougame.com/
Official Page: https://www.facebook.com/EyouMysticRealm/
Mystic Realm Players Community (OFFICIAL GROUP):
https://www.facebook.com/groups/EyouMysticRealm/
Eyougame support mail: [email protected]