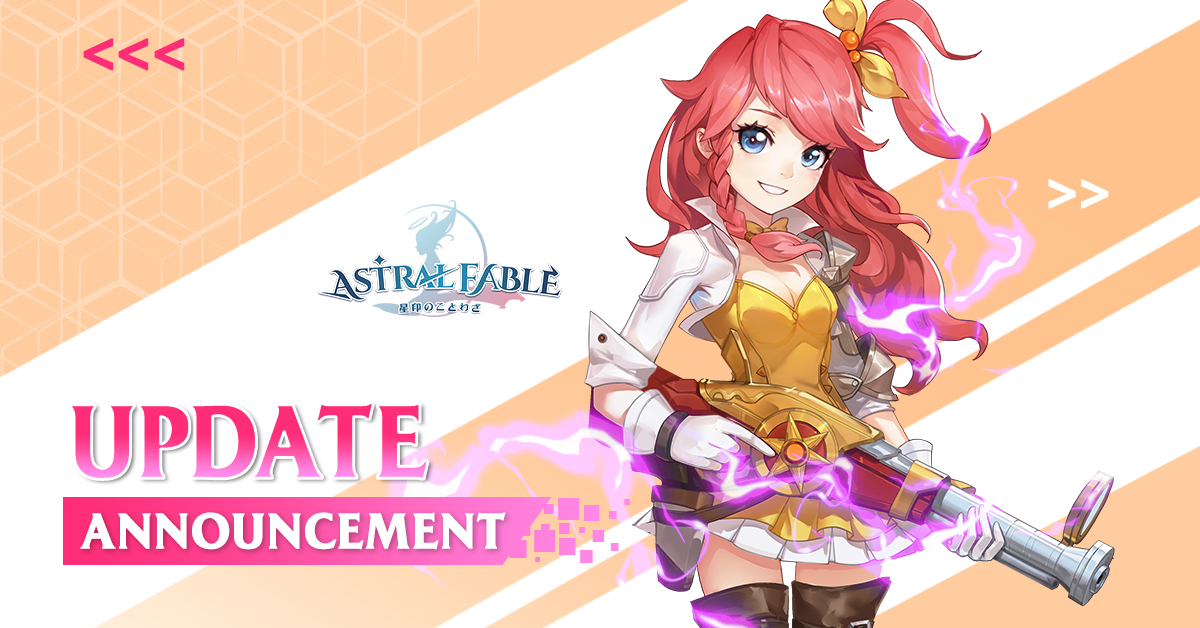 28th April 2020 Update Notice

Dear warriors,
Our servers will be undergoing maintenance from 14:00 to 16:00 on 28th April 2020. This process is estimated to take around 2 hours. The schedule is subject to change depending on the actual process. Please be prepared and log out the game in advance to avoid any unnecessary loss.
Asia: 28 April 2020 14:00 - 16:00 [UTC+8]
Euro: 28 April 2020 06:00 - 08:00 [UTC+0]
America: 28 April 2020 01:00 - 03:00 [UTC-5]
New Content:
A brand new world server system is coming soon.
[Artifact System]- have an artifact and boost your CP in no time.
New System
1.Function - Character Switch V. The Character Switch V quest unlocks at Peak Lv. 130
2.New G14 and G15 stages are added in Gear Dungeon
New Function
1.Fusion - New Baby, Awakening and Artifact Image fusion
2.Title Token Fusion. A fusion button is added for Pri. Fusion Tokens
New Event
1.New Supreme Investment
2.Magical Melody, unlocks on day 8 of servers. By completing daily quests and weekly quests, players can obtain notes which are used to level up Magical Melody.
New Gameplay
1.Function - Chaos Warzone, unlocks at Lv. 350. You can enter this gameplay by opening World Server events to take part in this whole-server matching fun experience. The battle starts when 10 players are ready. You have to avoid poison zone, kill enemies and keep improving your rank to win fabulous rewards! Don't miss it!
2.Function - New C.S. War. The rules remain the same while the period is changed to one week.
3.Function - C.S. Foothold War, unlocks on day 15 of servers. This gameplay will be held alternately with C.S. League every week. You can enter this through World Server events. A war between servers, capture footholds and win abundant rewards!
Optimization
1.Optimized EXP Dungeon by adding a purging function that unlocks at Lv. 400
2.Optimized the scenes of Happy Quiz/Peak Arena. Top 3 players in Happy Quiz and top 1 player in Peak Arena will be displayed!
3.Optimized King Duel. Players who don't make it to the finals can continue to gain scene EXP and participate in the guess during the event!
4.Optimized Guild Siege. Guild Siege will be unavailable after C.S. League is unlocked on day 15 of servers.
-----------------------------------------------------------------
1.New Cross Server System Release: [Artifact System]
2.New Costume Release: [Snow Wizard, Ice Blade, Christmas Elf, Autumn, Hardcore Vajra]
3.New Theme Release: [Blossoming Waves, Undersea, Waves Passion, Universe Array, Swan Queen]
4.New Wings Release: [Winter Snow]
5.New Partner Release: [Sweet Mouse, Good Lil'Sheep,Fire Power Meow,Panda Ahbao]
6.Notice: Now our b.diamond shop can be use real diamond.
【Kindly reminder that has no any tips for you】
7.Other optimization is made and bugs are fixed.
【Reminder】
We understand that sometimes problems occur after the update, but please report the problems in a calm manner. We will try our best to inform our technicians at the first time in order to fix any problem you might have encounter. We would like to thank you for your continuous support too.
【Attention】
1.The rewards of some events will be change after update.
2. The rewards of some events will be change according to the new world server level. The rewards will only able to claimed one, if you already claimed the rewards before the maintenance and you will be unable to claim the rewards after maintenance.

Note: Attention to all players, please be sure to log out the game at least 10 minutes before the update starts. Thank you!
Thank you for your guys support, hope you guys really enjoy the time while playing Astral Fable! Have a great day ahead!
**We reserve the right to amend any of the rules and regulations without prior notice and should any dispute arise, Astral Fable Official Team decision is deemed final.
Best Regards,
Operation Team