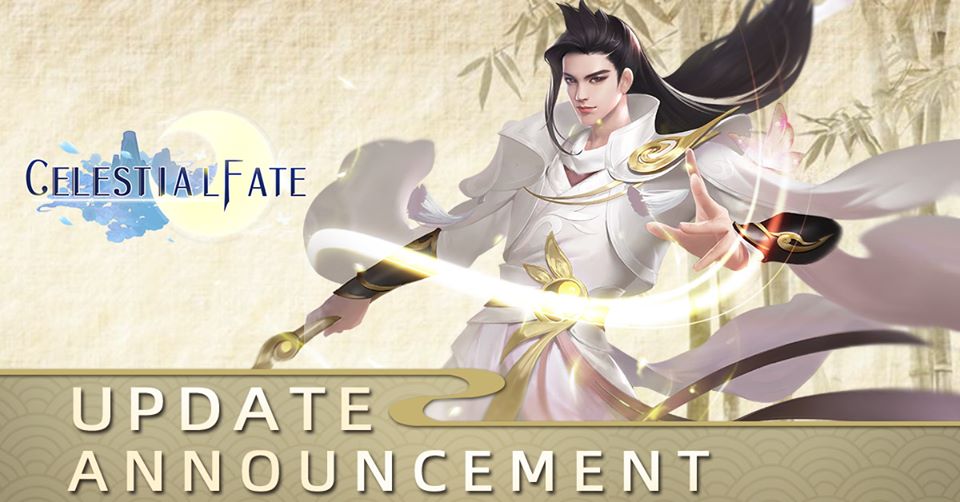 Dear players,
Your support for Celestial Fate is much appreciated. To bring more fun and interesting gameplays to you, we are going to conduct a version update and system optimization. You will be unable to log in to the game during that period, so please log out in advance to avoid any unnecessary loss. The schedule is subject to change depending on the actual progress as well as the server opening time.
We sincerely apologize for any inconvenience caused and appreciate your understanding and support!
*Remind: Please kindly log out the game 5 minutes before maintenance to prevent any problem from happening. We will make an announcement once the maintenance is completed. Sorry for any inconvenience caused in advance and thank you for your cooperation.
【Update Time】
Asia: 15:300 ~ 17:30 (UTC+8) on 25th February 2020.
America: 02:30 ~ 04:30 (UTC-5) on 25th February 2020.
Europe: 07:30 ~ 09:30 (UTC+0) on 25th February 2020.
Below is the update content:
【New Content】
1. 72 Changes: New SSS-class Godlord - Monkey King(Life Talent: Active to take effect, increase Shaytan stats by 50% and 1 deployed Shaytan slot)
2. 72 Changes: New SSS-class Godlord - Zhu Ba jie(Life Talent: Active to take effect, increase Divine Beast stats by 50% and 1 Godlord assist slot)
【New System - Sculpture】
1. Unlock Level: Lv. 60
2. Introduction: Players can activate 5 parts of the sculpture by consuming the corresponding sculpture items to obtain stats buffs. Activation of a full set of sculptures can initiate the corresponding set stats.
【Server Optimization】
1. Optimize the streaming experience of an excessive amount of players during cross-server gameplay
2. Increase the max limit of players in a server
3. Manage the server merge accord to the activeness of every server
4. Optimize the issue of over-heat of a certain model of phones.
【Basic Optimization】
1. Greatly optimize server performance
2. Recovery of some in-game contents
【Other Optimization】
1. Some Interface Optimization
**We reserve the right to amend any of the rules and regulations without prior notice and should any dispute arise, Celestial Fate's Official Team decision is deemed final.