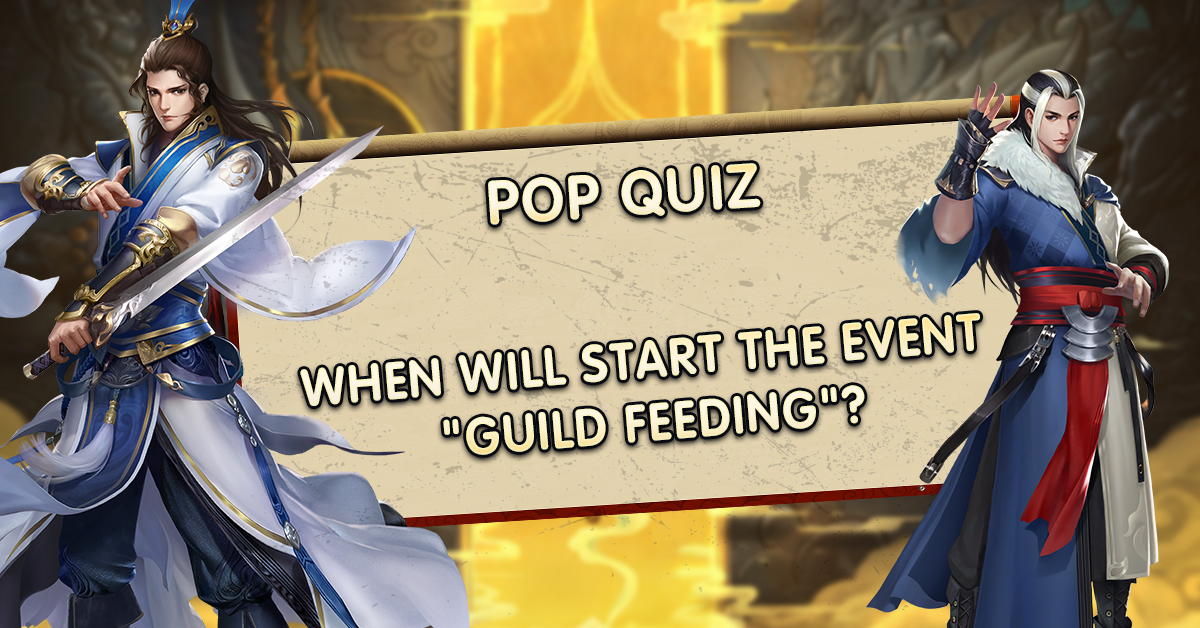 Hi there, everyone! We have prepared an award-winning question for you! Please do spend some time thinking about it and choose the correct answer.
Question: What is the opening time of Guild Feeding?
This is an objective question, please select A or B as your answer.
A.7:30-7:50 p.m. every Tues and Thurs
B.8:30-8:50 p.m. every Mon and Fri
Event Time: 12:00:00, 10th January 2020 until 23:59:59 12th January 2020
Reward: Pri. Mount Evolve Crystal*20,Enhance Gem*30,B.Sycee*200
How to participate:
Example:
Leave the following information in the comment section
- Character name: Clozer
- Server: AP1/ EU1/ NA1
- Answer: A
Participation Rules:
1. Each player is limited to one participation
2. Those who take part in this more than once will be disqualified
3. Those who do not like and share this post will be disqualified
4. Rewards will be sent in 3-7 working days after the event
5. Any reward receipt issue will not be entertained 10 days after the event
6. We bear no responsibility towards reward receipt failure due to any incorrect information provided
7. Players who did not LIKES and SHARE the post will be disqualified.
8. The management team of Luminous Sword will not be responsible for any rewards failed to receive due to incorrect character information given
Come join us now! Don't miss the chance to win all these gifts from us!
**Luminous Sword Official Team decision is deemed final.
☁ ☁ ☁ ☁ ☁
Follow us to get news and updates;
Official Community Group: https://eyou.io/lsgroup
Official Website: http://luminous-sword.eyougame.com/
Official Instagram: @eyougame_official (https://eyou.io/eyouinsta)
Eyougame Official Facebook: https://eyou.io/eyoufb
Eyougame Support Mail: [email protected]