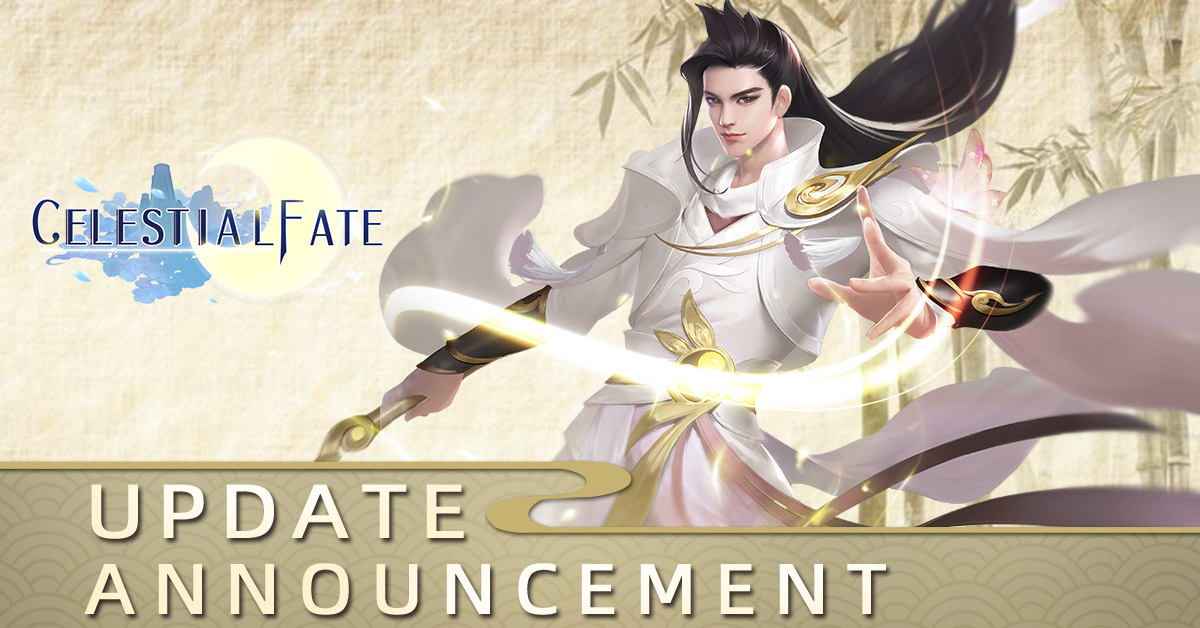 Dear players,
Your support for Celestial Fate is much appreciated. To bring more fun and interesting gameplays to you, we are going to conduct a version update and system optimization. You will be unable to log in to the game during that period, so please log out in advance to avoid any unnecessary loss. The schedule is subject to change depending on the actual progress as well as the server opening time.
We sincerely apologize for any inconvenience caused and appreciate your understanding and support!
*Remind: Please log out the game 5 minutes before the maintenance to prevent any problem from happening. We will make an announcement once the maintenance is completed. Sorry for any inconvenience caused in advance and thank you for your cooperation.
【Update Time】
Asia: 15:00 ~ 17:00 (UTC+8) on 20th November 2019.
America: 02:00 ~ 04:00 (UTC-5) on 20th November 2019.
Europe: 07:00 ~ 09:00 (UTC+0) on 20th November 2019.
Below is the update content:
【New Content】
1. Godlord: New skin of Roselle - Roselle·I
2. Godlord: New skin of Zhurong - Zhurong·I
3. Godlord: New skin of Jumang - Jumang·I
4. Godlord: New skin of Chiyou - Chiyou.I
5. Transmo. Skin: New Arms Transmo. - Marquis Young Blade(increases helmet stats by 10%, 3% chance to increase EVA by 2000 for 2 sec)
6. Transmo. Skin: New F. Mount Transmo. - Mecha Wrath Mount (increases gaiter stats by 10%, 3% chance to increase DEF by 6000 for 2 sec)
7. Transmo. Skin: New Arm Trransmo. - Mecha Wraith Blade (increases Wrist stats by 10%, 3% chance to increase 2000 pt. self CRI for 2 sec.
8. Transmo. Skin: New Plume Trransmo. - Mecha Wraith Wing (increases Boots stats by 10%, 3% chance to increase 6000 pt. self ATK for 2 sec.
【New System - Five Phase Relic】
1. Unlock level: Lv. 200
2. Gameplay Introduction:
① Every character can equip 5 Angelic Gear or 6 Monster Gear. Angelic Gear and Monster Gear cannot be equipped together at the same time
② Equipping of relic increases stats and mana of characters
③ Five Phase Mana: Based on the restraint relationship of 5 phases, the side with higher mana can deal extra fixed damage when in battle
④ Relic can be enhanced. The level of enhancement will remain on the corresponding part, gear on that part will obtain enhancement buff after equipping
⑤ Powerful relic set effect will be activated when equipped relic reaches a certain quality and grade requirement. Only the highest-CP set effect will be activated
【New Gameplay - Relic Chest】
1. Players can spend sycee to join a draw and win Five Phase related items
【New Gameplay - Ancient Ruins】
1. Unlock level: Lv. 200
2. Gameplay Introduction: Players can enter Ancient Ruins with Five Phase Ticket and kill monsters to get item rewards. Killing will decrease mana that will decrease with time too. Killing of mob will not decrease mana. When mana reaches 0, players will be sent out from the scene (damage will be dealt only when the Five Phase gear of player restrain the stats of monster). Killing Silver or Gold Sword Spirit will increase the chance to get Five Phase Gear. The Sword Spirit will appear regularly in the scene.
【New Gameplay - God S. Gem Shard Fusion】
1. Gameplay Introduction: 10 God S. Gem Shards can be fused into 1 God S. Gem10
【New Gameplay - Gear Purification】
1. Unlock Level: Lv. 92
2. Gameplay Introduction
① Stats slot can be activated with Sycee. After that you can purify Rebirth Gear with Purify Gem to increase stats buff of the gear. The stats will change every time you purify the gear and you can choose to continue purifying or replace it. Stats slot can be locked so it won't be changed after purification.
② Purify Gem can be obtained from Purify Dungeon. You have free chance to purify your gear daily (no material required)
③ Special Purification: When requirements are met, you can consume Sycee to generate one stats of purple and above. You can use Orange/Red Purify Crystal to generate Orange/Red stats
【New Dungeon - Purify Dungeon】
1. Gameplay Introduction
① This dungeon unlocks at Lv. 92. Its rewards include Purify Gem and other purification related items. This dungeon is divided into 7 levels of difficulty. The higher the level of dungeon, the richer the rewards. 1st Clearance Rewards will be received when you clear the dungeon for the first time. The shorter the time you use, the higher the rating you get and so richer rewards you will get
② There are 2 challenge chances every day. The chance will be deducted only when you clear the stage successfully and can be reset by consuming Sycee (up to 2 times a day). Purchased chances are valid on that day only
③ Dungeon requirement: Reach certain level and clear the previous stage with a 3-star result
④ You can purge all stage (required to activate Princess Iron Fan first) to get the rewards of the most difficult stage you have cleared.
【New Gameplay - My Space】
1. Unlock level: Lv. 55
2. Gameplay Introduction: Players can now publish their information in My Space
【New Gameplay - Status posting and Follower of My Space】
1. Gameplay Introduction: Players can post their status in text on My space. The number of post is limited. Players can also follow other people and become their fans.
【New Gameplay - My Space Square】
1. Game Introduction: You can view the status of other players and content of certain groups or topics in this Square. When a character is popular enough, they will be listed in a popular ranking and become the center of attention!
【New Gameplay - C.S. Territory War】
1. Event Time: Every Saturday 21:00-21:30 (on day 14 of new server)
2. Gameplay Introduction: Guilds of Lv. 5 and above are eligible to take part in this. This war will be a battle among five adjacent servers. Guild leaders have to choose and attack a city by consuming warzone resource. Both the attackers and defenders have to seize 3 War Flags. The winner will become the conqueror and receive abundant rewards
【New Gameplay - C.S. Couple League】
1. The event time is 21:00-21:30 every Friday
2. Gameplay Introduction: Couple players can sign up for this before this event begins (entry is limited). This is a 2V2 match. All players of the server of champion couple will receive the rewards while the champion will be given extra rewards (sent via mail)
3. Requirement
- At least one of the couple must be one of the top 1024 players on C.S. CP Ranking (Ranked Match CP Ranking)
- One of the couple must send 100 flowers to their couple on the day of registration
- Both parties must be online when registering for this event. One of them taps to register while the other one will be notified
- Entry of this event is limited. Only 512 pairs of players have the chance to take part in this
【Server Optimization】
1. Optimize the streaming experience of an excessive amount of players during cross-server gameplay
2. Increase the max limit of players in a server
3. Manage the server merge accord to the activeness of every server
4. Optimize the issue of over-heat of a certain model of phones.
【Basic Optimization】
1. Greatly optimize server performance
2. Recovery of some in-game contents
【Other Optimization】
1. Some Interface Optimization
We reserve the right to amend any of the rules and regulations without prior notice and should any dispute arise, Celestial Fate's Official Team decision is deemed final.