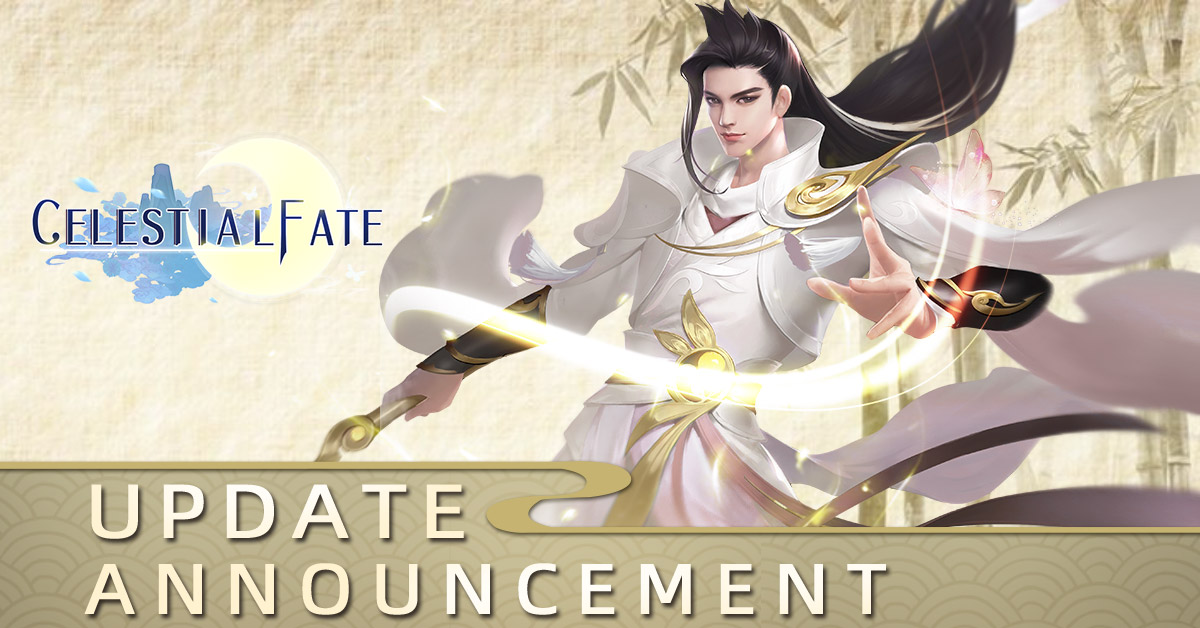 Dear players,
Your support for Celestial Fate is much appreciated. To bring more fun and interesting gameplays to you, we are going to conduct a version update and system optimization. You will be unable to log in to the game during that period, so please log out in advance to avoid any unnecessary loss. The schedule is subject to change depending on the actual progress as well as the server opening time.
We sincerely apologize for any inconvenience caused and appreciate your understanding and support!
*Remind: Please kindly log out the game 5 minutes before maintenance to prevent any problem from happening. We will make an announcement once the maintenance is completed. Sorry for any inconvenience caused in advance and thank you for your cooperation.
【Update Time】
Asia: 15:00 ~ 17:00 (UTC+8) on 29th October 2019.
America: 03:00 ~ 05:00 (UTC-4) on 29th October 2019.
Europe: 08:00 ~ 10:00 (UTC+1) on 29th October 2019.
Below is the update content:
【New Content】
1.Godlord: New skin of God Chiyou - Chiyou·G
2.Godlord: New skin of Fuxi God - Fuxi·G
3.72 Changes: New SS-class Godlord - Illusionary Snake (Life Talent: Activated without deploying, increases F. Mount and F. Aircraft stats by an additional 10%)
4.72 Changes: New SS-class Godlord - Heavenly Rhino (Life Talent: Activated without deploying, increases Goddess and Elf stats by an additional 10%)
5.Transmo. Skin: New F. Mount Transmo. - Arctic Young Sled (increases character ring stats by 10%, 3% chance to increase ATK by 600 when attacking for 2 sec)
6.Transmo. Skin: New Wing Transmo. - Glacier Young Plume (increases character wrist stats by 10%, 3% chance to increase DEF by 6000 when attacking for 2 sec)
7.Home Deco: New Halloween series
【New System - Rebirth Quench】
1.Unlock Rebirth Quench
【New System - Blood Oath】
1.Unlock Level : Lv. 50
2.Introduction: Any 2-3 players who haven't sworn the blood oath with anyone can swear the oath to become sworn siblings. The Intimacy between any 2 players must be greater or equal to 50 and they must be Lv. 50 and above. Bond Value can be increased by increasing Intimacy, and joining gameplay in team. Bond Value and the number of Blood Oath member will affect the effect of buff. Sworn players can negotiate to quit or quit the relationship directly which will deduct Sycee or Bound Sycee.
【New System -Wishlist】
1.Unlock Requirement: Unlocks when character reaches Lv. 100 and echelon reaches Tier 13
2.Introduction: Players can add items into their wishlist. Upon adding, a storage fee will be collected from players based on the total price of items in wishlist (every wishlist message can be kept up to 24 hours. Storage fee of incomplete transaction will be returned in 24 hours) If the transaction is successful, a 10% procedure fee will be collected from purchaser.
【New Time-limited Event - C.S. Boss】
1.Unlock level : Lv. 90
2.During the event, players can select one of the routes to enter the scene and kill the boss. Rewards will be given to guild and individual based on the final damage ranking.
【New Gameplay - C.S. 3V3 League】
1.Unlock level: Lv. 50
2.Registration: Sworn players can sign up for this gameplay in team from 10:00 to 21:00 every Monday
3.Requirement: Only sworn players with Bond Value that reaches at least 100 on that day (10:00 to 21:00) can sign up for this. The players must be in same region servers and reach top 2048 in Cross-server CP ranking.
Introduction: The league is divided into group match and championship. Players have to win the group match to enter the championship. While the top 64 elimination matches start, a Champion Guess event will be held. Those who guess the result correctly will receive corresponding rewards.
【New System - Shaytan Gear】
Introduction:
1.After unlocking this gameplay, players can unlock or level up their Shaytan by equipping a certain amount of Shaytan Gear
2.Shaytan gear can be enhanced by consuming corresponding material. Each enhancement will increase your proficiency of using Shaytan Gear which can increase enhancement level when it reaches a certain value
【New Gameplay - Shaytan Chest】
Introduction:
Players can take part in a draw by spending Sycee in Shaytan Chest to get Shaytan gear related rewards. Every draw will increase Treasure EXP and points that can be used to upgrade the treasure.
【New Gameplay - Wasteland】
Introduction:
1.Players team up to enter Wasteland defeating the boss, collecting fixed (or random) items, killing Elite Mobs to obtain Shaytan Gear rewards;
2.Boss Killing is limited by Fatigue Value. The team that deals the highest damage to the boss win the reward affiliation;
3.The collection of fixed or random items is limited. Corresponding Shaytan Gear reward will be given after collection;
4.You can also defeat Elite Mobs to get Shaytan Gear reward.
【New Gameplay - Shaytan Gear Fusion】
1.Unlock Level: Lv. 180
2.Introduction: Players can fuse gear that meets requirement to obtain even more powerful Shaytan Fear!
(For details, please refer to the game)
【New Gameplay - Appearance Set】
1.Collect a complete set of Mount, Wings and Weapon, a complete set of Costume, Title, Album, Textbox and a complete set of Home Deco to activate extra set stats
【New Function - Password Lock】
1.Password lock can be activated in Settings. The game will be auto-locked after being disconnected. You have to unlock manually first to continue some operation.
【Server Optimization】
1. Optimize the streaming experience of an excessive amount of players during cross-server gameplay
2. Increase the max limit of players in a server
3. Manage the server merge accord to the activeness of every server
4. Optimize the issue of over-heat of a certain model of phones.
【Basic Optimization】
1. Greatly optimize server performance
2. Recovery of some in-game contents
【Other Optimization】
1. Some Interface Optimizations