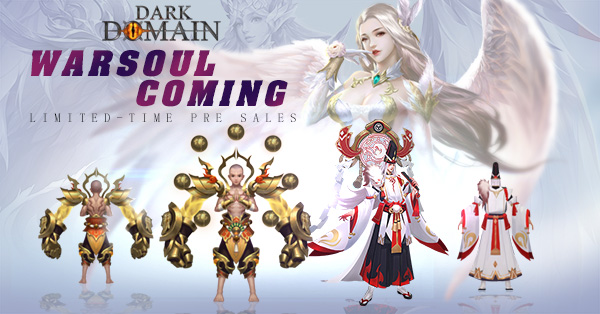 【Dark Domain New Update】
Dear Dark Domain Heroes,
For a better gaming experience and more stable development on Naphur Land, we will be conducting maintenance on 11th July 2019, from 1400hrs to 1600hrs UTC+8. Your support and cooperation is much appreciated. Update Content below:
◇ New Content
1.Warsoul Inheritance:
① Passive skills of a warsoul can be inherited by another warsoul
② The inheritor will obtain all skills from the warsoul including the level and quantity
③ The warsoul won't disappear but their skills will be initialized
2.Spirit Palace - Wish Point Shop
① A Wish Point Shop has been added where you can use Wish Points to exchange warsoul item
② Wish Point can be obtained the draw of Spirit Palace. You earn 1 point every time you draw
③ Draw chance will be converted to Wish Point before maintenance
3.Chariot Construct
① Chariot Assembly unlocks at Lv. 400. You can embed construct gear to increase character's stats
② Construct is divided into 8 parts each part can be embedded with 6 chariot gears
③ One part embedded with 6 gears will be activated. Stats buff and skill effect will be granted after activation
◇ Optimization
1.Warsoul System Optimization
① 3 new S-class warsouls added in Spirit Palace and Elite Gathering
② Warsoul dismantle function optimized, batch operation added
③ Warsoul ranking added, only CP of deployed warsoul calculated
2. Enchantment operation optimized, assist material auto-purchase function added
3. Drop rate of purple/orange gear in pet and mount dungeon increased, production of red gear shard increased
4. Arrangement order of gameplays in daily event interface optimized
5. Channel hiding function added in chat channel hiding setting is valid for current login only
6. The level requirement of Treasure Box adjusted to Lv. 150, character sent to blessed land by default at the first time
7. New kinds of fish added in Fishing, fishing skill activated after reaching Lv. 2
8. Special cooking added in Lv. 2/4/6 cooking skill using of it can obtain rewards, like bound diamonds
9. Peak Switch II ranking class display problem fixed
10. Skill effect of warsoul optimized
11. Leap giftpack of some systems adjusted
12. Refresh rules of C.S. Boss adjusted triggering condition and effect of buff weakened
13. Purging function optimized, entrance of [Daily Purge] that gathers all purge-able gameplay added
14. Description about special skill and buff added in character interface
15. Riding action added when getting on and off chariot
16. Image + Deify Pink Gear preview error fixed
17. C.S. Arena point display error fixed
18. C.S. Boss level refresh rules adjusted
19. Boss following function optimized and following status of all player reset Players need to reset Boss following.