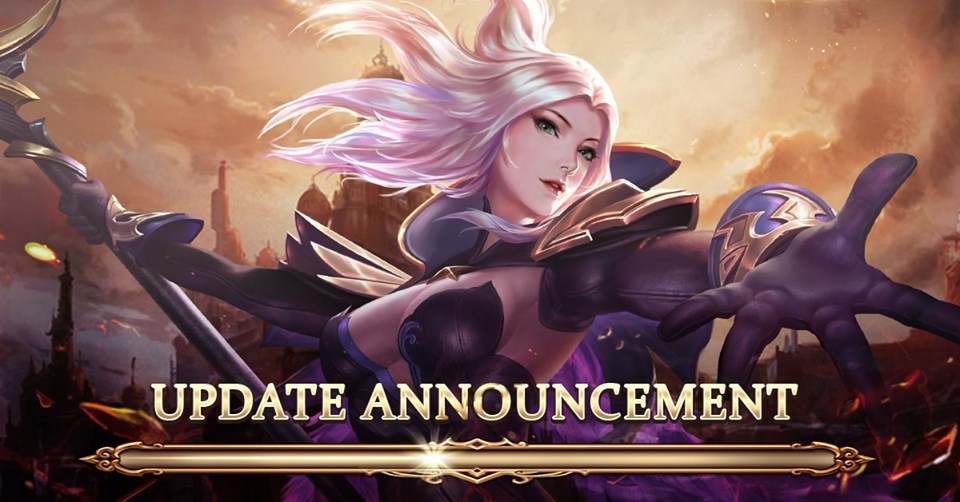 Greetings! Domain Heroes!
In order to improve the gaming experience for all players, Dark Domain will be having a New Update delivered by
Asia: 27th June 2019 14:00 UTC+8
America: 27th June 2019 02:00 UTC-4
Europe: 27th June 2019 07:00 UTC+1
【New Content】
1. Warsoul System
- Warsoul system will be unlocked on day 15 after server launch. You can obtain a Warsoul from [Spirit Palace] or [Elite Gathering]
- The quality of warsoul is divided into: Class S, Class A, Class B and Class C; the higher the quality of Warsoul, the better its trait and growth stats; The trait and growth stats of a warsoul will affect the stats value when you level it up
- After activating warsoul, you can deploy up to 4 warsouls to fight with you, but only 1 warsoul will fight with you. This warsoul will inherit stats and skills from the other deployed warsouls.
- When your warsoul reaches Lv. 100, you can reset their stats trait with recast potion. You can choose to keep the recast result or not in order to obtain higher trait.
- Each warsoul has 1 default active skill. You can use Warsoul Skill Book to learn more new skill.
- There's chance to unlock new skill slot as well as replace the passive skill after using the book.
- Warsoul cannot learn existing skill. Adv. and low skill can be learnt at the same time.
2. Elite Gathering
- New single Daily Gameplay [Elite Gathering] is added and will be unlocked on day 15 after server launch
- 4 random warsouls will appear in Spirit Palace every day (can be refreshed manually, free for the 1st time)
- After successful challenge, you will obtain Warsoul shard + Warsoul cultivation item
3. Team League (C.S.)
- The new gameplay, Team League, is added. The match is divided into 3 stages: group match, breakout and the final.
- At the stage of group match, players of Lv. 300 or above in server that has been launched more than 7 days can sign up for this match in a team consisting of 3 members.
- The teams will be placed into different zone based on the highest level member in the team when they register for the match
- At the stage of group match, each team will be given points based on the result of each battle; the top 16 teams with the highest points are eligible to join the breakout to win the 8 seats for the final.
- From the beginning of breakout to the end of the final, players can guess the result of each battle.
- After the match ends, league rewards will be given based on ranking. Besides than rare rewards, the top 3 teams will be listed in Hall of Fame to be worshiped by the other players
4. Star up Chariot
- Chariot star-up system is unlocked. You can star up activated special chariot with Chariot Soul.
- Special chariot can be transmogrified after activation to get chariot skill
5. Outland BOSS
- Peak Switch II Player can join Outland BOSS Gameplay from [World Server]
- Outland BOSS will be refreshed daily. Defeat BOSS or join to defeat and obtain rewards
6. World Quiz:
- World Quiz starts at specific time every day, and the questions will be shown at the chat window
- Enter the correct answer in world channel to get rewards
- Server Quiz is available for the first 7 days of new server, and World Quiz starts at Day 8
【System Optimization】
1. Playground
- Adjusted the throwing single price and reset price of wonderland
- Awards 1 free throw after reset
- Increase the value of Destination Chest, the higher rounds of chest, the better rewards to get
- Increase the output of exclusive canon shard, and the amount of canon fragment
2. BOSS Hall Optimized
- Repel Stage 4 BOSS at Floor 1, and added a Grade 7 BOSS;
- Floor 3 has changed to 3 Grade 8 and Grade 9 BOSS;
- The requirement of entering floor 2 and above will be reduced according to the days of server launch
【Optimized Content】
1. Optimized rules of Daily Purge: Player is able to purge in Tiny Realm, Rune Tower, Abyss Realm and other gameplays at certain level
2. Added [Daily Purge] button in daily event and display of gameplay to be purged
3. Optimized the effect of opening the chest from dungeon result;
4. Added [About Divorce] button in couple interface;
5. Added [Fish & Cook] gameplay in New Server Day 3 event
6. Added 300 Activity Chest in Daily interface
7. Optimized matching rules of Single C.S. Arena
8. Optimized the hints of Exclusive Canon Item when switching class
9. Added [Lv. up All] button in index
10. Optimized the Pink Gear Tag in forge interface
11. New added output of Grade 13 Gear in Dwarf Shop
12. Added Floor 7 to C.S. BOSS; And increase the forge material and output of antique of Titan Grade
13. Unlock the slot of gear purify, it is prior of consuming Bound Diamond
14. Optimized the sequence of item consume, and also the usage of bound item
15. New added achievement of chatting type
16. Added the quest of Chapter 9 ~ Chapter 15,
17. New added tag of Grade 13 Gear in trading house
18. New added the 2nd confirmation when dismantling rare item
19. New added the 2nd confirmation when lv. up guild building by diamond
20. Optimized the hints of using D. Bead Optional Giftpack
21. Optimized the hints of renew Elf, and added Bound Diamond Renew button
22. Added 10 minutes of invincible BUFF to player when reviving at special NPC of camp
23. Added forging chariot red gear in forge interface
24. After the character has reached Lv. 350, added the output of Perfect Seal Shard in Dwarf Shop
25. Added Perfect D. Bead Shard, Holy Water, Exchange Perfect Seal Shard to Dwarf Point Store
【Other Optimization】
1. Some Interface Optimizations
2. Greatly optimize server performance
3. Recovery of some in-game contents
Note: Attention to all Domain Heroes, please be sure to log out the game at least 10 minutes before the update starts. Thank you!
Thank you for support & we hope you guys really enjoy the time while playing Dark Domain! Have a great day ahead!
**We reserve the right to amend any of the rules & regulations without prior notice and should any dispute arise, Dark Domain Official Team decision is deemed final.